Medical State of Mind
Sep 19
Passing The Torch.
After four years of service, my iPhone 4 was starting to show its age. There were a lot of hiccups during the day, the battery life was no longer what it once was, and the case was beginning to scuff. 
Today, my new iPhone 6 arrived in the mail and with that, it was time to pass on the torch to the next generation. 
Farewell iPhone 4, and I thank you for your service.
Sep 17
[video]
Replies to Review: LAMY Safari
Pendere: My pen of choice. I use a Lamy Safari Vista, which is fully transparent so that I can see where I stand ink-wise and refill in advance.
I have to check the tiny window on opposite sides of my pen that allow me to see how much ink remains. Generally once it appears empty, there is about 20% left in the converter.
Ashenmemories: Agreed. The Safari is pretty durable and a smooth writer for a reasonable price as far as fountain pens go. Have you thought about turning any of the disposables into eye dropper pens? You wouldn't have to worry about ink as much while at work.
I have not thought about it but perhaps that can be a future project of mine. I am actually considering getting another fountain pen for a different purpose at the moment. Perhaps I can shed some light on that if I get a chance to review it.
Rarelyposts: Resisting the urge to buy, but slowly losing…
Resistance is futile. In all seriousness, if you have thought about getting into fountain pens, I think this would be a decent one to start with. There is an investment up front - there are definitely cheaper pens out there - but it was built as a trainer and it writes fantastic.
Wayfaringmd: Only a doctor could write such a thorough review of a pen.
I should have become a dermatologist then. Then I could apply that level of scrutiny to a mole. I kid. I kid.
Sep 16
Review: LAMY Safari
I have always found fountain pens to be intoxicatingly beautiful, but I never brought myself to buy one. Partly I simply did not know where to look, partly I was also lazy. I had grown up using throwaway pens and they worked fine for me. But I was inspired to consider them more seriously when I saw my attending writing with not one but four fountain pens on the ward. "Why?" I asked him. He told me: because his hand ached at the end of a long day of writing page after page of notes; the fountain pens had put an end to all of that and they got rid of the callouses on his fingers.
I looked down at my right hand, thick callouses along the side of my three fingers. I decided it was time to get a fountain pen.
Sep 15
Reply: 42 CME Credits
Polyacrylamidepensieve: Woah can you use the credits for anything? I have no idea how many hours I've spent on uptodate, but my account's not a personal one so it's awesome to know they have that feature!
UpToDate does have a CME credit submission tool that allows you to describe how you applied the information you reviewed in practice. At this time, because I am not in a practice of my own just yet, I cannot submit them. That will have to wait until after residency.
42 CME Credits
Now that I have started residency, I have also invested into an UpToDate subscription. This online clinical resource logs the time you spend researching and reading different topics. In less than three months' time, I have already amassed 42 continuing medical education credits. 
A single credit is the equivalent of an hour of additional reading. 
In essence, I am averaging roughly 12 hours of reading every month on UpToDate. This is in addition to some other bits of reading I do here and there on guidelines, position statements, and textbooks. 
However, it just goes to show that a little bit every day goes a long way.
Sep 14
[video]
Sep 12
Woman of 24 found to have no cerebellum in her brain -
A woman living in China's Shandong Province got a bit of a surprise recently when doctors at the Chinese PLA General Hospital told her that her brain was missing one of the most important centers for motor control: the cerebellum. She had initially checked herself into the hospital because of a bad case of dizziness and nausea.
Her diagnosis helped explain some of the challenges she had experienced through the course of her life, including slurred speech, delayed onset of walking until the age of seven and troubles with maintaining balance her entire life.
(Source: brain.oxfordjournals.org)
Sep 11
That Horrible Feeling
When you see patients with scabies or pink eye and you feel the creepy crawlies just itching under your fingers and eyes for the rest of the day.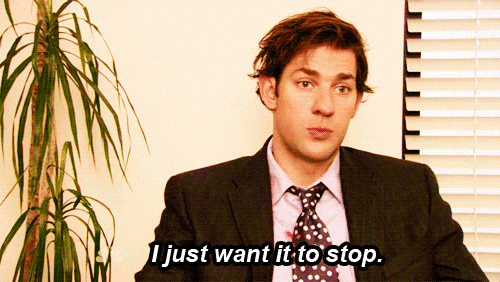 Sep 10
Driving to Work
I enjoy driving. It is a form of therapy for me. When I buckle in and turn the ignition, it is just the road, the car, and I.
But what I hate is paying so much for gas, especially now that I have to drive a long distance to get to work.